REGISTRATION OPEN FOR UPCOMING COURSE ( CONGENITAL ANOMALIES SCAN) IN CHANDIGARH
(10th & 11th Nov,2018)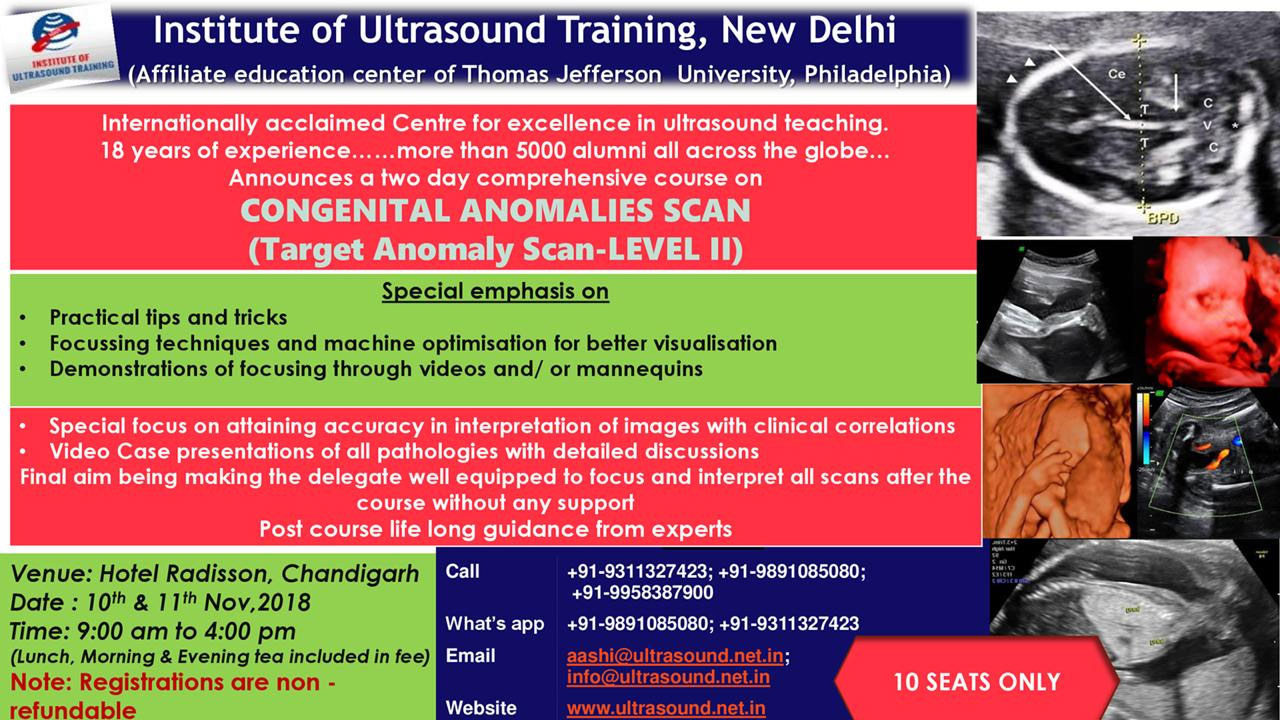 REGISTRATION OPEN FOR UPCOMING COURSE ( CONGENITAL ANOMALIES SCAN) IN HYDERABAD
(15th & 16th Dec,2018)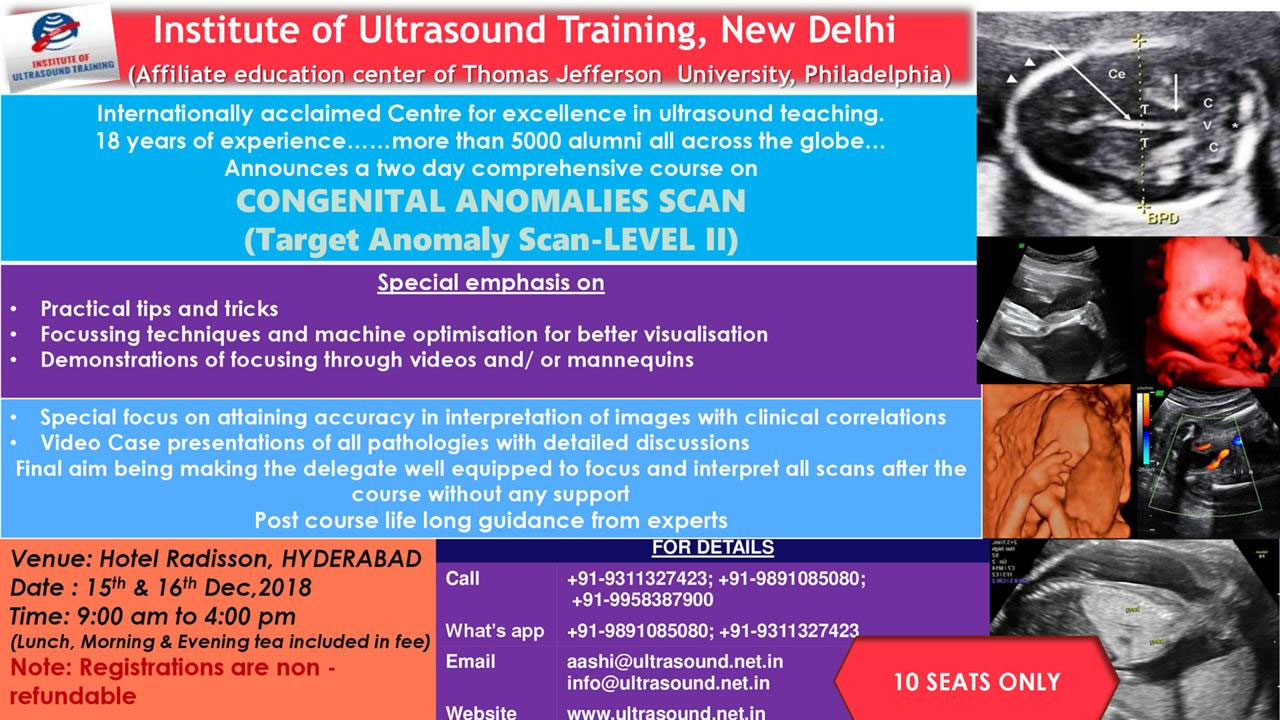 REGISTRATION OPEN FOR UPCOMING COURSE ( CONGENITAL ANOMALIES SCAN) IN KOLKATA
(17th & 18th Nov,2018)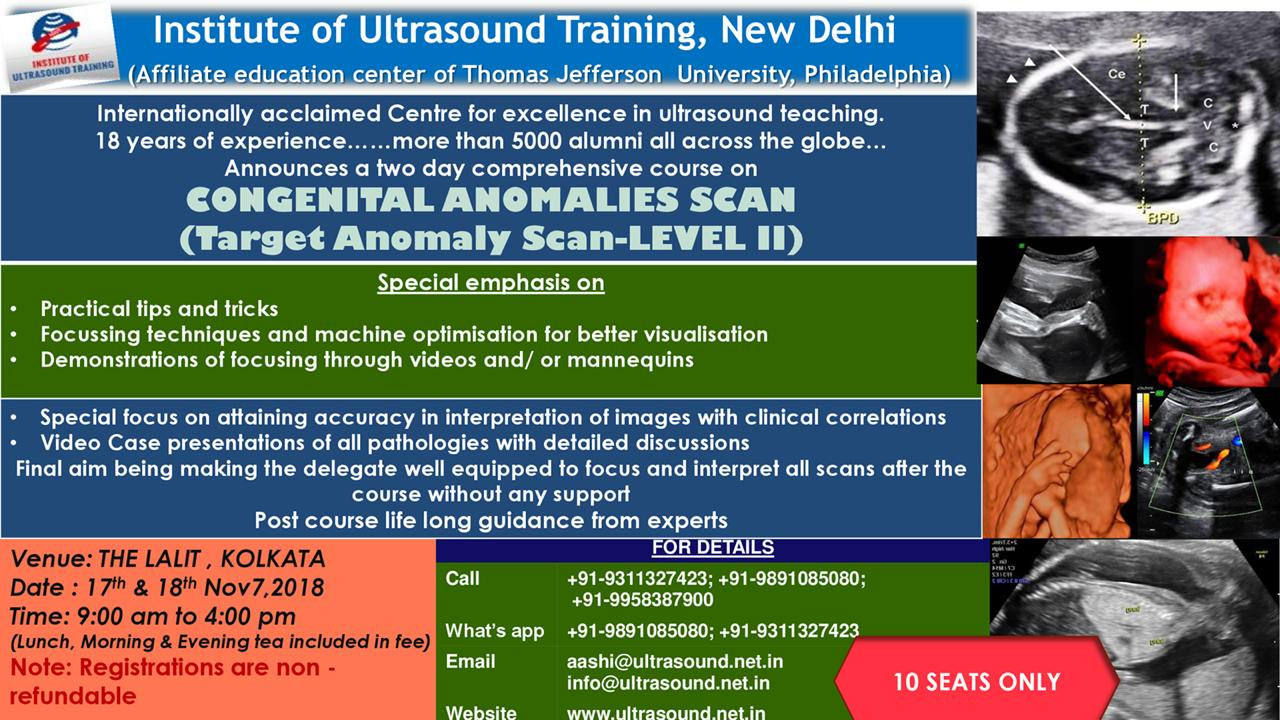 "ADVANCED CONGENITAL ANOMALIES"
Small group pattern like our Dubai courses for better interaction and problem solving!!
LIMITED SEATS !!
CONTENTS IN BRIEF :
Scanning technique for Target anomaly scans -- how to focus variousstructures,the basic scanning protocol, developed by our own institute which prevents missing on anomalies.
CONGENITAL CRANIAL ANOMALIES --- Differentiation between acrania, anencephaly , merocrania, Hydrocephalus and ventriculomegaly,Fetal brain tumors,agenesis of corpus callosum, holoprosencephaly,hydrancephaly,megalencephaly,microcephaly, porencephalic cyst,schizencephaly and arachnoid cyst.dandy walker syndrome and its variant,vein of galen aneurysm, interhemispheric cyst,Clover leaf skull, strawberry skull, lemon skull,Cystic hygroma and its relationship to ventriculomegaly, encephalocele , Fetal neck tumors—teratoma, Esophageal atresia, duodenal atresia,jejunal atresia, colonic atresia, epigastric and medial omphalocele.
Spinal abnormalities--Spina bifida, diastomatomelia,spina bifida, caudal regression syndrome
Persistent rt umbilical vein, cystic adenomatoid malformation of lung,pulmonary sequestration.
Congenital high airway obstruction sydrome---CHAOS
Fetal gall stones and visceral situs.
Meconium peritonitis, echogenic bowel,meckel gruber syndrome.
Ectopic fetal kidney and fetal ureterocele.
Saccrococcygeal teratoma and other fetal tumors
Fetal ovarian cyst.
Ultrasound diagnosis---Fetal ascites, pleural effusion and pericardial effusion.
Kidneys-- fetal hydronephrosis, polycystic kidneys, multicystic kidneys.
OEIS complex-- omphalocele,exstrophy bladder or cloacal,imperforate anus,
Includes diagnosis of exstrophy and imperforate anus and differential between omphalocele and gastrochisis.
Megacystitis---Will include diagnosis of posterior uretheral valves,
Prune-belly syndrome,urethral atresia and bilateral ureteropelvic junction
Ob-struction, and Bladder dilatation due to vesico ureteric reflux.
Skeletal
Osteogenesis imperfecta, achondroplasia,arthrogyprosis,club foot, rocker bottom foot, thanotrophic dysplasia,cleft lip and palate
REGISTRATIONS OPEN FOR UPCOMING COURSE ( OBGY DOPPLER) IN MUMBAI
(22nd & 23rd Sep,2018)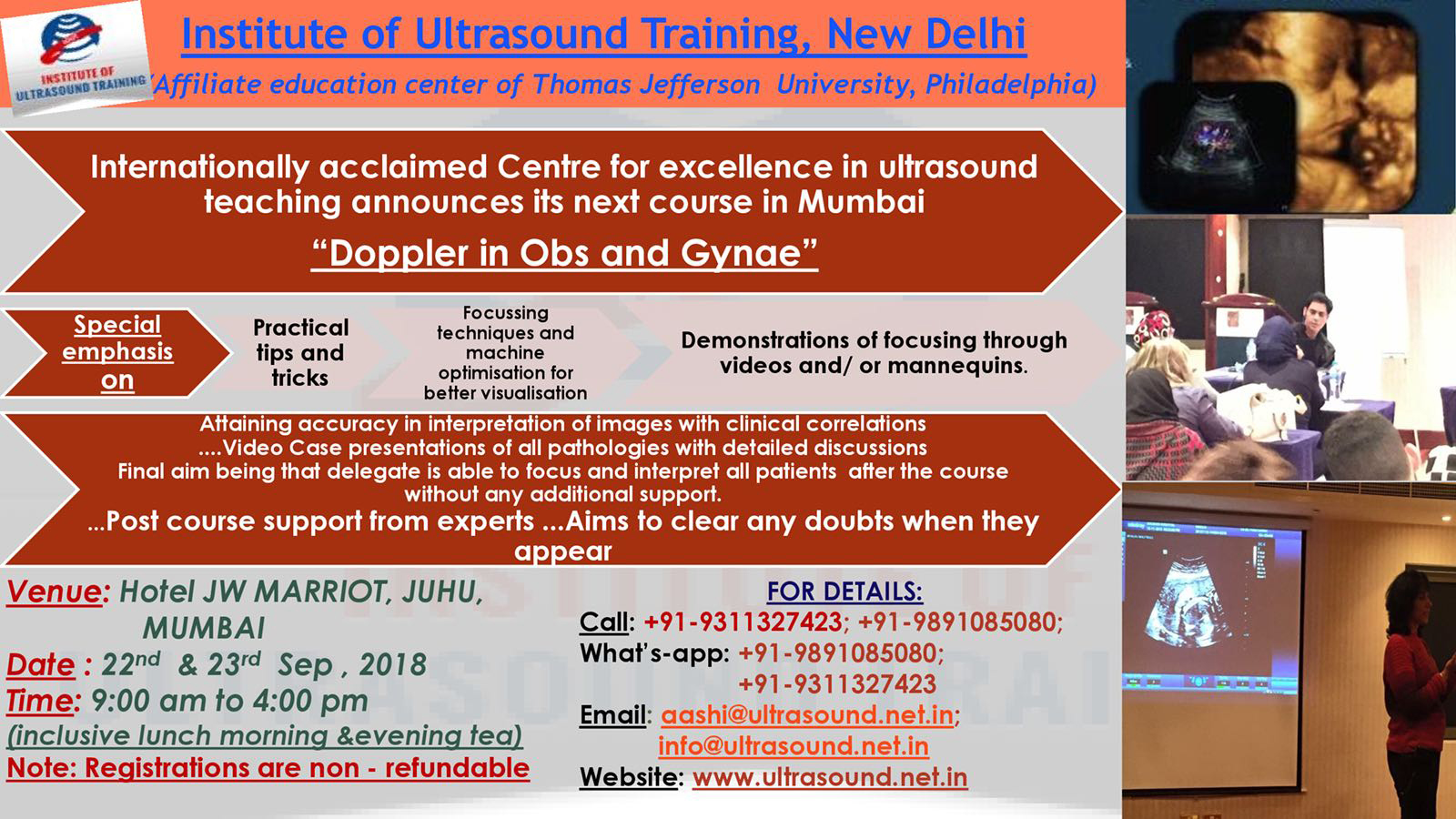 Topics to covered :
Basics of Doppler Instruments and Image Optimization
Doppler studies in Obstetric patients –Evaluation of uterine ,umbilical, middle cerebral, ductus venosus
Doppler in IUGR , Retained products, Molar pregnancy Ectopic pregnancy, Fetal anemia
Doppler studies in different diagnosis of gynaecological masses
Role of Doppler in Infertility
Evaluation of MCA for Fetal anemia